You know that feeling of using your intuition in a situation and having it work out beautifully
.
Do you wish you could create that experience any time you needed a solution or direction?
Well, with practice you can! The steps to accessing your intuition are simple and easy. The key is to use them over and over again so you get comfortable with your natural ability to access your intuition.
Step One. Listen.
Take time to listen to your intuition with daily meditation. It can be a sitting meditation or a moving meditation. Having a time each day that you put aside to listen quietly to your deepest self is the lifeline of accessing you intuition.
Step Two. Trust.
Once you have heard that inner voice of wisdom, felt that gut instinct, sensed a intuitive nudge – it is time to trust it. Trust yourself. Sometimes this is taking a big deep breath and giving yourself permission to proceed. Sometimes it can be as simple as affirming to yourself, "I trust my intuition." Sometimes it is taking a leap of faith into the unknown – that is a big trust in yourself.
Know this: You have the answer. You have the inner wisdom. You can trust yourself. You can trust your intuition.
Step Three. Follow.
Now go for it! You have listened to your intuition. You have decided to trust it. Now follow it. Take action immediately when you get an intuitive direction. It can be a small act or a large one. But make sure you deliberately do something concrete to follow your intuition. Whether it is a phone call, an email, signing up for a class or moving forward on a business idea.
If your intuition is directing you to not do something, be sure to validate that choice by saying aloud, "I am following my intuition by not doing this thing (phone call, an email, moving forward on a business idea, etc.)
The more frequently you use these three steps to access your intuition, the more natural it becomes and ready when you need it most.
Keep listening, trusting and following your intuition.
xo,
Kathleen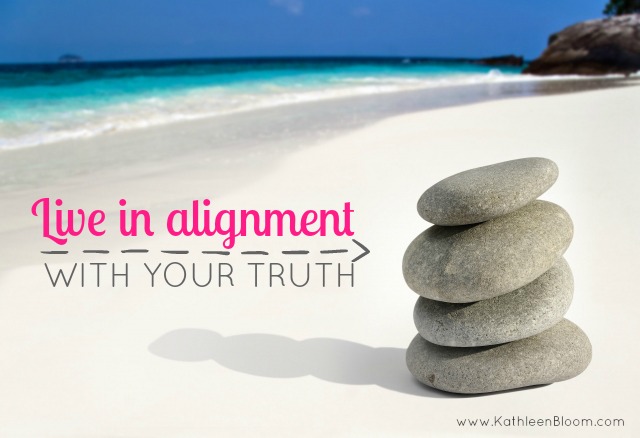 When you are in alignment with your truth, be assured you are on the right path in your life. Sometimes the road may be bumpy and difficult, but if it is your right path you will have a sense of calm. A benefit of being in alignment with your truth is that you lose that sense of comparing yourself to others.
You have a strong sense of being at the right place at the right time. It does not mean there are no challenges. It is just that you do not have to second guess yourself and every decision. You have a deeper sense of trust in the process and direction of your life, your work and your actions.
So how do you get in alignment with your truth?
It is something that you build over the course of time. So the sooner you start with it, the sooner you will be enveloped by the the benefits of being in true alignment.
Here are some steps you can take to tap into your personal truth.
1. Meditate Every Day
Of course you have heard me tell you this before. And you know how good it feels when you actually take a few minutes to stop rushing around and just breathe. Getting started on a daily meditation practice is a key step to being able to easily tap into you inner wisdom and truth.
The discipline that it takes to have daily meditation will extend into all areas of your life. It will buoy your efforts in other ways.
Start with 5 minutes a day. It is a short enough amount of time that you can manage it. Trust me, it will grow organically if you stick with every day. Want more support and ideas for your daily mediation. Check out Five Minute Meditation here.
2. Walk Every Day
Even a short walk will be good for you. We spend so much time on our computers and devices as well as driving and working at desks. It is essential to get outside and take a walk. The benefits of even a 10-20 minute walk everyday are tremendous.
Walking, without your phone or music, will help you get I touch with your body mind connection. It gives you a chance to let your thoughts flow freely and it is a excellent way to release stress, fret and worry. This is a an important component in being in alignment it's your truth. You have to be open and able to hear yourself think and feel without distractions. A daily walk will help significantly with that.
3. Eat Well
In a busy hectic life, it is easy to catch meals on the fly or to even skip meals and just snack through the day. Do the best you can to eat well. Make small lasting incremental changes rather than dramatic attempts to revamp your whole system. Think of one or two ways you can take better care of yourself with small improvements towards eating well.
Remember it isn't just what you eat, but how you eat. Take the time to set yourself a plate of food and eat it without TV, computer or phone. Enjoy the meal and notice how good it tastes and smells and looks. Really enjoy it.
4. Sing Dance Laugh
(My favorite things) Some light heartedness can go a long way. Your alignment of truth does not need to be heavy or serious. It can be easy and delightful. So sing, dance and laugh your way to releasing the strain and distress of having to be perfect and know everything.
Just relax a bit and let it flow to you naturally. Even amid hard work, you will have an overall sense of ease when you are in alignment with your life and work in the world.
Enjoy!
Xo
Kathleen